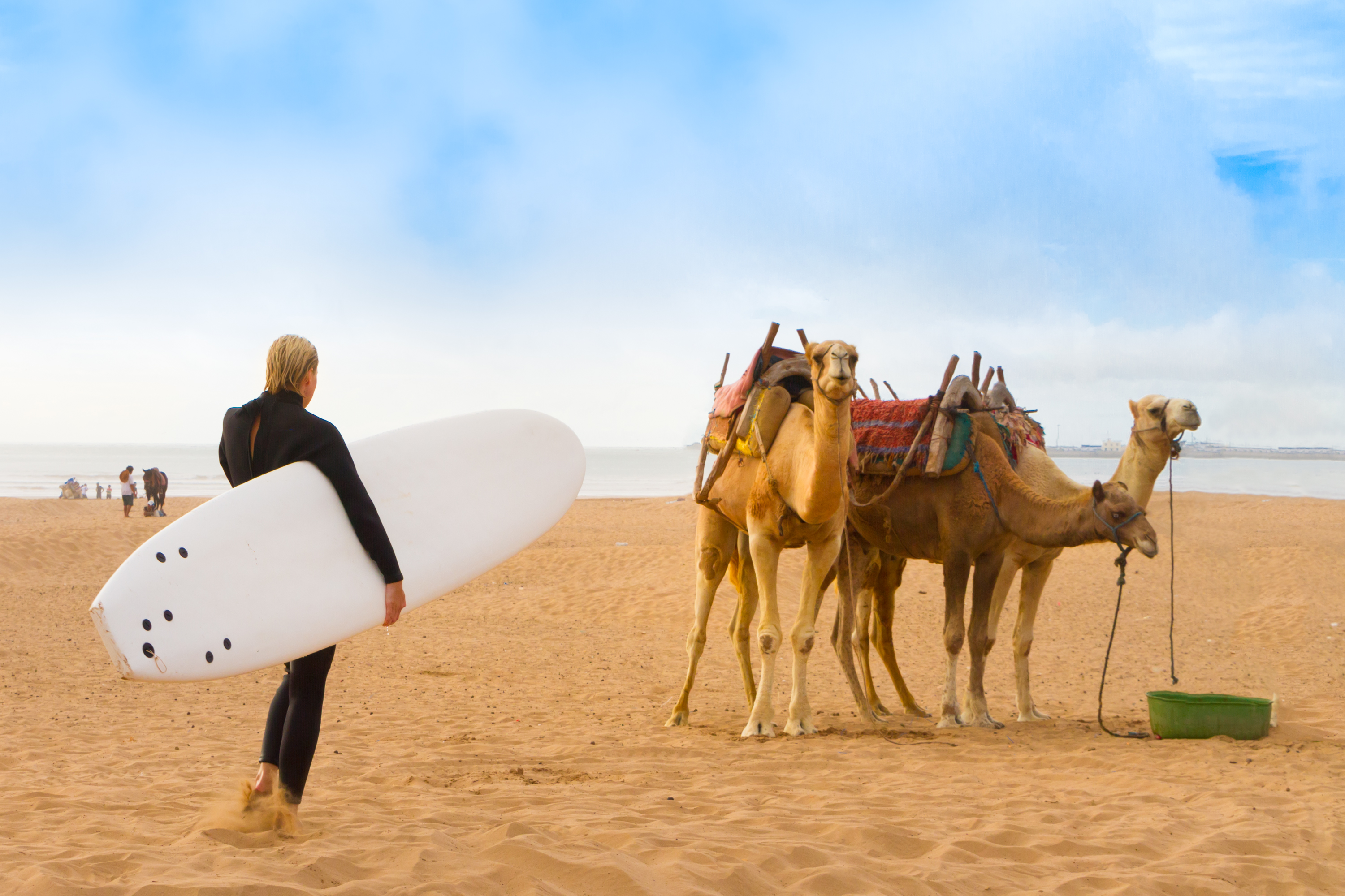 Welcome to the top 5 beginner surf beaches in Morocco. Surfing in Morocco is a truly unique experience. Like its European counterparts, the coastal areas offer spectacular long white sandy beaches and endless Morocco surf options.
Surfing in Morocco is for everyone, from beginner surfers looking to get amongst Morocco's green Atlantic walls to advanced surfers chasing leg burning rides at Anchor Point.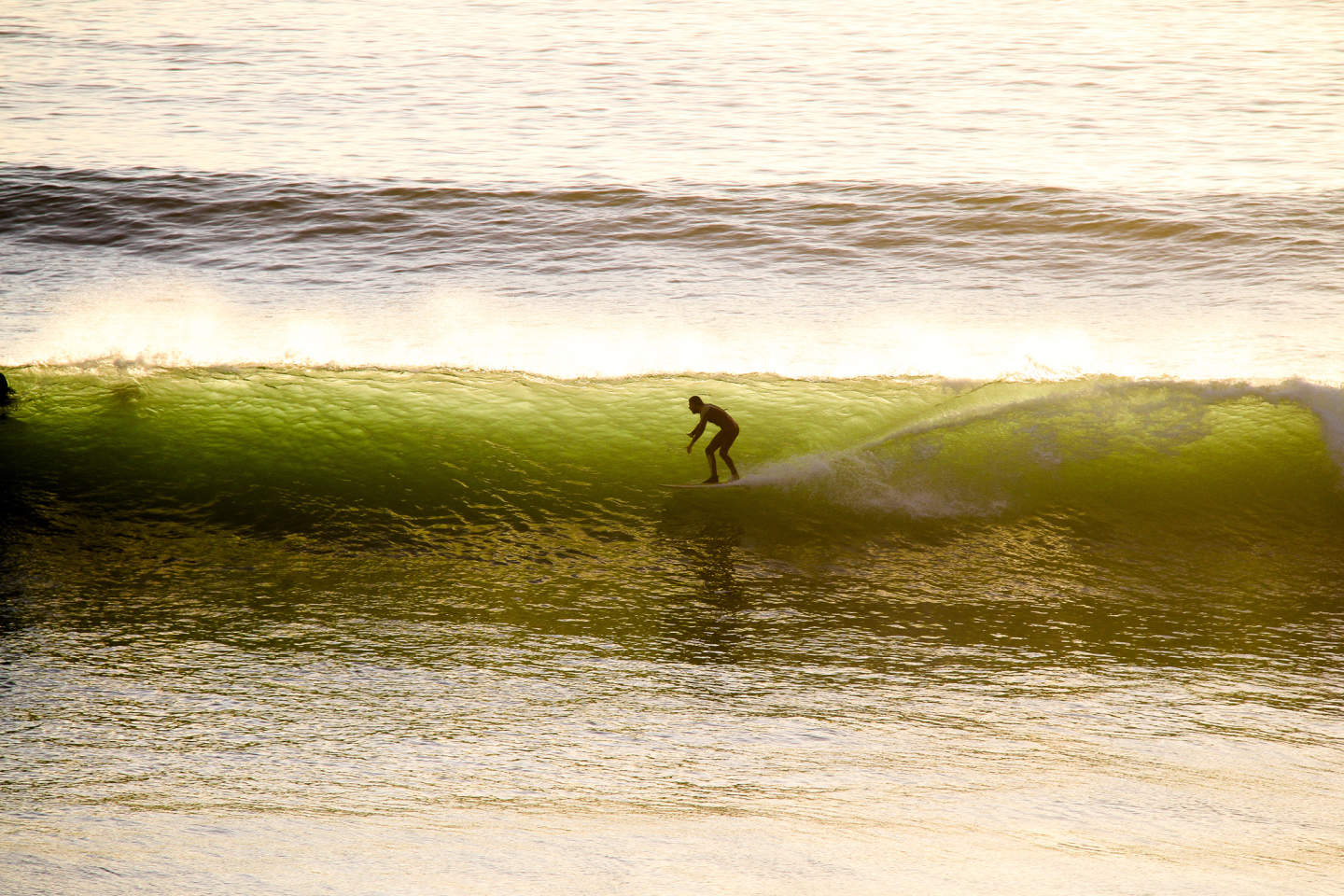 La Source provides performance walls and a high lifting A-frame that walls up slowly, making it perfect for beginner surfers on a Morocco surf trip. On the push of a small swell, the right-handers hold up towards the cliffs, while the rarer lefts break out towards the beach section. Small reef sections combine with the sandy bottom to provide nice walls that can offer some speed sections.
Town: Taghazout
Where: South West, Morocco. 20km North of Agadir
The Area: Taghazout, and its neighbouring town of Tamraght, are small bustling towns full of cafés, surf shops and interesting local stores. It is a very safe area that has for years embraced the surf culture of foreign travelling surfers.
Beach: Beautiful golden sand beach which gets its name from the fresh water springs bubbling up from onshore rock formations.
Type: Right, and the occasional left-hand, walls that peel perfectly through the bay. It is rarely busy which is what you want out of the best beginner surf beaches in Morocco.
Best Time: September – April
Weather: 23 – 32 °C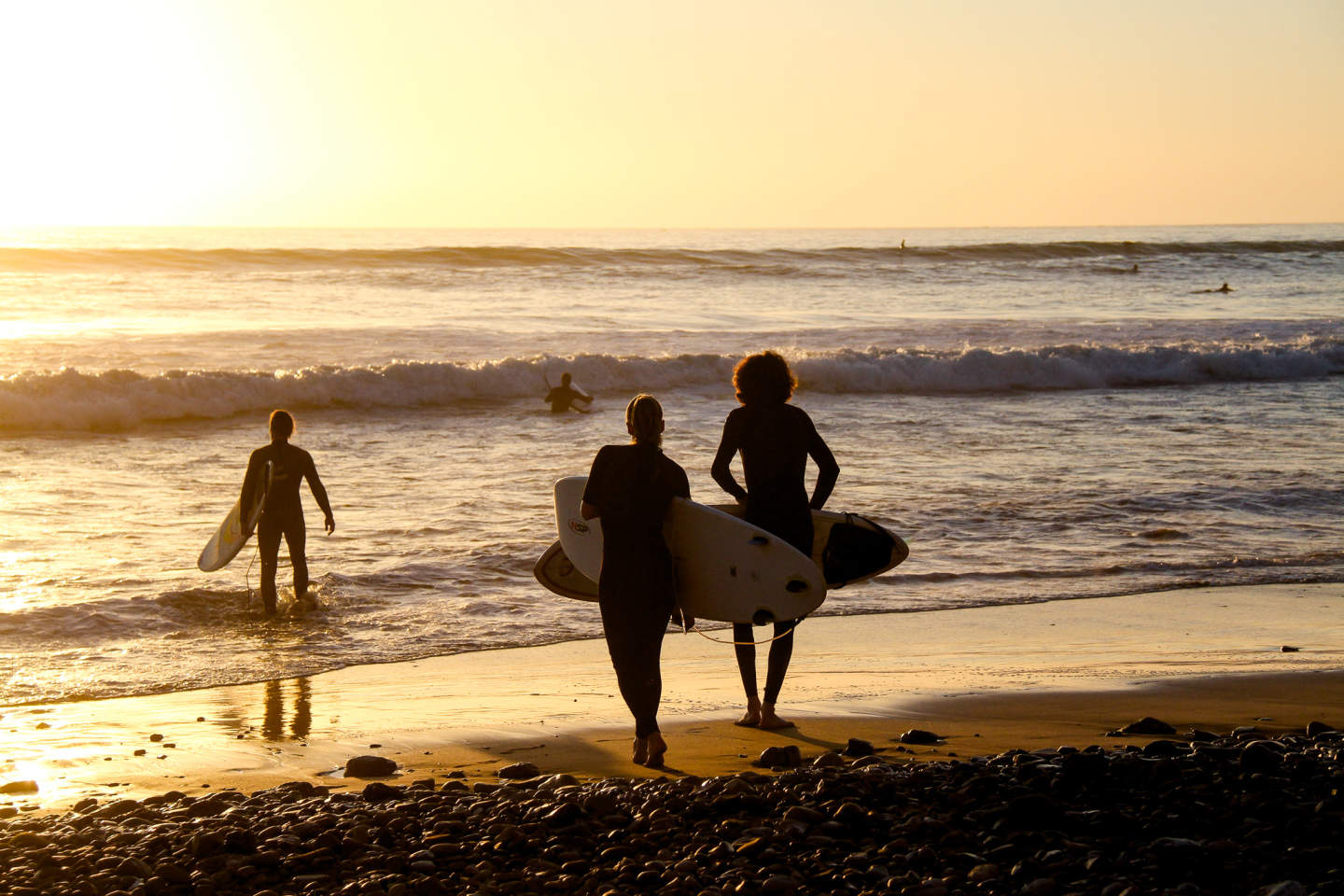 Essaouira is arguably the best spot on our list of 'The Top 5 Beginner Surf Beaches in Morocco' for those completely new to the sport because the beach has a soft sand bottom.
It is best at high-tide with a light north wind because it creates both left and right peaks that allow you to get a grip of the basic surf skills.
Town: Essaouira
Where: West, Morocco. 175km north of Agadir/190km south of Marrakesh
The Area: Located on a peninsula surrounded by lush forests and the Atlantic Ocean, Essaouira has always seduced travellers. It's authentic Medina and harbour are a fortified ensemble that was built in the end of the 18th-century, and has been listed as a UNESCO World Heritage Site. Wander around here in your time away from the surf.
Beach: Long, curved beach that offers great views of both the port and Isle de Mogador. It really is the perfect place to while away the hours because you can explore the old town between sessions in the waves.
Type: Right-hand beach break walls, with the occasional left-hander that breaks across the inside banks.
Best Time: July – February
Weather: 21 – 30 °C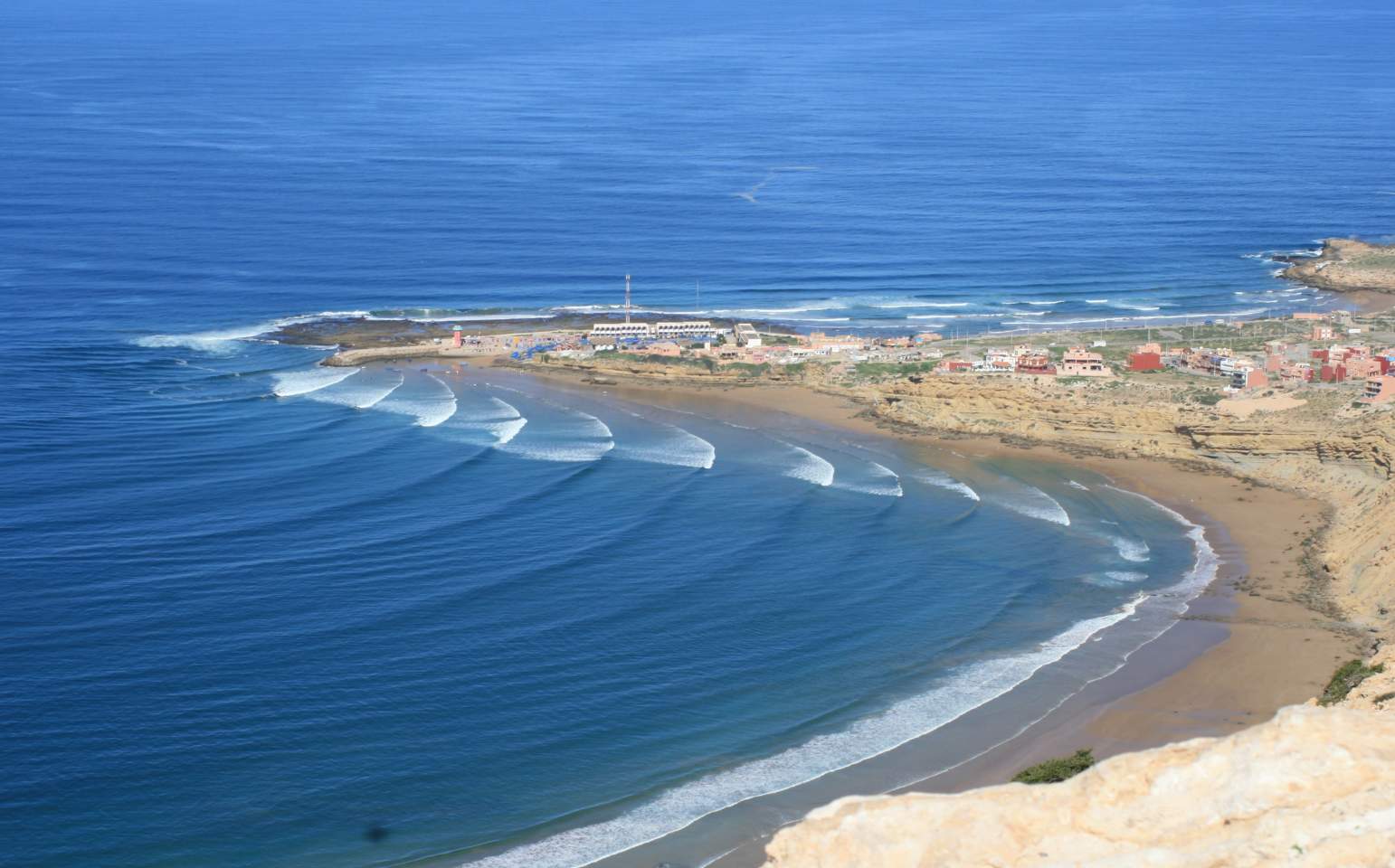 This is one of the best-kept secrets for people on a Morocco surf camp because Magic Bay is a long right-hander that can break for up to 600m when the conditions align, making it one of the longest waves in Africa. Imagine a mellow Skeleton Bay that has been flipped around, and you'll get the picture!
Town: Imsouane
Where: South West, Morocco. 80km north of Agadir.
The Area: A surf holiday in Imsouane will usually involve all day surf sessions, a trip to Agadir and its world famous Souk. In addition to an afternoon swimming in the beautiful natural pools at Paradise Valley and evenings chilling out watching the spectacular sunset from the roof tops of your accommodation, whilst eating tagine and sipping on fresh mint tea.
Beach: Mountainous cliffs slope down to a calm bay that has a long and pointy headland that the right-hand walls wrap around and then peels down the sandy bay. A must visit for any surfer, regardless of ability.
Type: A beginner and long-boarders heaven, a super slow walling right-hander that just seems to go on and on. The only challenge is how long your legs can hold up!
Best Time: August – March
Weather: 23 – 31 °C
4. Panoramas, Taghazout
sTown: TaghazoutA fantastic beginner beach break that is often overlooked for the more famous Morocco surf spots. Panoramas produces some good barrels, and to top it off is less crowded than some other breaks. When there is a huge swell rolling in, the sheltered beach break is a safe place for beginners to learn.
Where: South West, Morocco. 20km north of Agadir.
The Area: Taghazout is a chilled out surfer's paradise that is full of cafés, local stores and restaurants serving traditional Moroccan cuisine.
Beach: A long expanse of beach with a headland to the north that offers shelter. A fantastic option to spend the day, relaxing in the tree shade, taking in the views of this beautiful beach.
Type: Another long sandy beach break (see the pattern yet?) that has left and right waves that are perfect for beginners. As your week progresses and you start to dial in your surfing, head to the point which offers a faster punchier wave.
Best Time: September – March
Weather: 22 – 30 °C
Our recommended place to stay close to Panoramas:
5. Sidi Kaouki Beach, Marrakech-Safi
This spot is an excellent beginner wave because it is a long sandy beach that offers a variety of peaks to choose from. It's best at high tide as the conditions glass out and serve up some of the best beginner surf in Morocco.
Town: Sidi Kaouki
Where: West Morocco.30km south of Essaouira
The Area: A very quiet fishing village that exudes rustic charm, friendly and charming locals and ultimate relaxation.
Beach: Beautiful big beach with a large building on the rocks, washed by the sea, which is the final resting place of Sufi saint Sidi Kaouki. Visit the shrine in between surf sessions and head to surfers' hangout on the beach, the Sidi Kaouki Surf Club, a brightly decorated cafe-clubhouse which will refuel you after your Morocco surf sessions.
Type: Long open beach break with loads of punchy peaks and a bit of reef at the river mouth and south end that can offer faster rides.
Best Time: July – January
Weather: 21 – 29 °C
—–
To sum up…
Morocco's mix of culture, geographical location, old world history, the people and the awesome beginner waves that offer the perfect canvas for a surf holiday abroad.
The beaches in this article offer an excellent platform for a first experience amongst the salt and will give you the ideal conditions to master the basics. Before long you'll be trimming along the green part of the wave and whipping in some turns and cutbacks on the Morocco surf holiday.