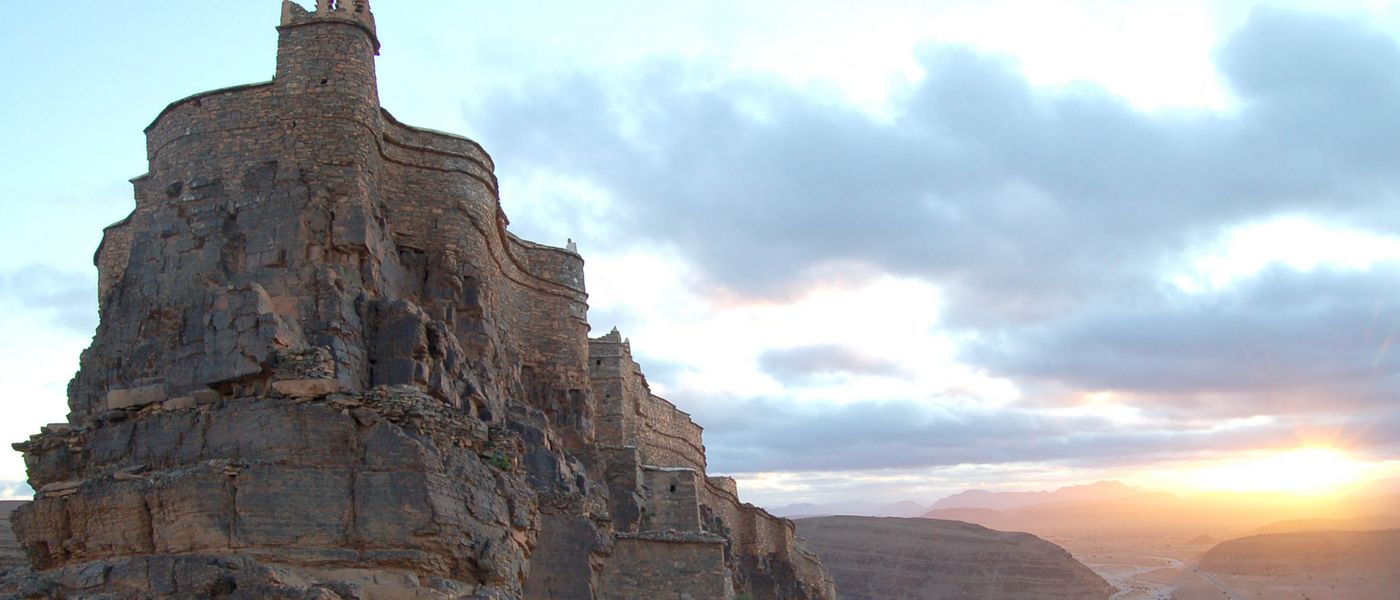 Amtoudi's Sacred Granaries
In the heart of the Id Aïssa oasis, Amtoudi is a small village dominated by imposing cliffs. Nearly 300 families, living mainly from agriculture, live in the village. Palm, fig, almond, apricot, olive and orange trees rub shoulders with small fields of corn and barley and vegetable gardens.
On the cliffs, two igoudar (plural of agadir). An agadir is a fortified collective granary, with watchtowers to monitor any attempt to intrude into the valley. The function of an agadir was to store and protect the village crops and also the wealth.
From the top of its rocky outcrop, the Agadir of Id Aissa is a marvel of defensive architecture. It dates from the 12th century and was used until 1956. It is 30 minutes' ascent from the village. From up there, the view is breathtaking. Next to the Agadir, we notice rock engravings.
In the mazes of the alleys of agadir, there were 73 cells, allocated to the families of Amtoudi and closed by narrow doors.There are many niches to receive the traditional beehives in woven reed. A little further along, following the canyon, the agadir of Aglouy is also worth a detour.
In each agadir, a small museum brings together ancient objects from everyday life. Moving away from the village, following the course of the wadi bordered by seguias, we explore magnificent landscapes.
We arrive at the guelta. It is a depression retaining water after the passage of a flood or fed by springs. It is surrounded by high limestone walls, adorned with stalactites. It can reach a depth of 2 meters in places.
TO KNOW :
* In one day, it is possible to complete the loop of the 2 granaries and the guelta with a picnic lunch in the canyon. From the village of Amtoudi, it takes an hour and a half to walk to the guelta. The ideal is to sleep two nights in Amtoudi.
* How to come to Amtoudi:
Please note, on the Michelin map, Id Aïssa is indicated.
Amtoudi is between Bouizakarne and Tata on the N 12. Twenty km after Bouizakarne, after the village of Taghjijt, turn left. Another thirty km of tar and you are there …
In case of rain, the road can be cut ….
Contact us for more informations about any of our Anti-Atlas customized tours.